B&B Antica Toscana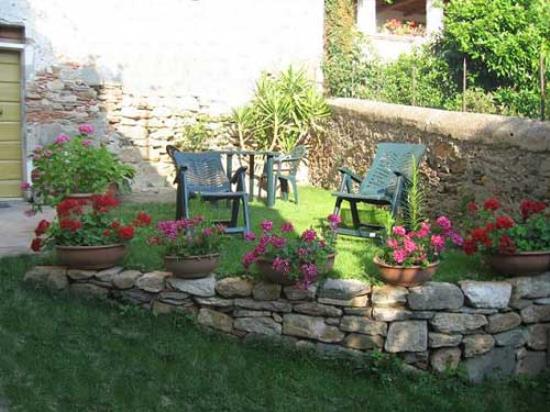 Description
The B&B Antica Toscana is situated in a wonderful building of the 8th century in the pittoresque Montemagno – a small medieval village in a green country.
The B&B has an indipendent entrance, 2/3 double rooms with wooden floor, 2 bathrooms and the possiblility to use the kitchen. There is a car parking near a green area with a playground for children.
Near the B&B you can find a food shop and an excellent typical tuscan restaurant.
B&B Antica Toscana is in front of the Valley Valgraziosa there is a beautiful view on Pisa and its surroundings. You can reach Pisa in about 10 minutes. The famous "Charterhouse of Calci" where you can visit the Museum of Natural History is situtated at a distance of 2 km.
In the neighbourhood you can find a riding-ground, a swimming-pool, a tennis court and a shop which hires out bicycles and it is possible to do trecking in our beautifull hills.
It's the ideal place for whom wants to live a relaxing holiday but also for whom wants to be near the most important tuscan towns as Lucca, Florence and Siena and the seaside resorts like Tirrenia, Marina di Pisa, Viareggio, Forte dei Marmi ecc.

Services


• 3 Double room
• Private bath
• Historical residence
• TV
• Garden
• HI-FI
• PC_INTERNET
• equipped kitchen
• Accept pets

Attractions


• Certosa di Calci + Museum Km 1
• Pisa tower Km 15
• Dome of Pisa Km 15
• Spa Km 10
• Castle of Verruca Km 15

---

Activities


• Mountain bike km: 1
• Riding horse km: 1
• Trekking km: 1
• Mountain km: 2
• Seaside km: 30
• Tennis km: 1
• Swimming pool km: 5

How to reach it


Y CAR : Take the highway to Florence and go on the arterial road FI-PI-LI - take the exit Cascina and at the end of the road turn left - go straight on for about 500mt (you pass traffic lights and a fly-over). You will reach a round crossing - take the 2. exit and go straight on. You will reach another crossing with traffic lights - turn left. You will go through a road with trees on the side where you will see the water - factory ULIVETO, you will cross a village and another road with trees on the side (pay attention to the speed limits - there are radar controls - one is 200mt after the water - factory Uliveto and another is after the second road with the trees on the side). You have to pass a crossing where you have the priority - go straight on after 150mt turn right. The road skirts a small stream and at the end of it you will find another round crossing, take the first exit and go straight on for about 500mt until you will find another round crossing. Take the first exit and go straight on for about 1 km - at the end of the road you will find a cross-roads - turn right and go straight on for about 200mt. At the end of the road turn left. The road beginns to go up for about 2 km - you will find a road-sign with written "Montemagno" upon go straight on for 50mt and turn left. You will find a big parking where you can leave your car. You will find the B&B on the main road before turning into the parking, after 50mt at number 5.

BY PLANE : The nearest airport is Galileo Galilei of Pisa where you can rent a car or take a taxi or take the bus to the main bus station where it's possible to take a bus to Montemagno every hour. From the bus station of Montemagno the B&B is 50mt away.

BY TRAIN : From Pisa Railway Station you can take a taxi. You can also go to the main bus station - there is a bus to Montemagno every hour. >From the bus station of Montemagno the B&B is 50mt away.

Prezzi

Low season

€

55

Mean season

€

80

Hig season

€

90

Look the lastminutes


No Last Minute !
Add to your wishes list


Crea una lista delle tue strutture preferite

INFO
Pictures Gallery
Click to enlarge